NEWS IN FROM DAMIAN AT THE SOUTH COL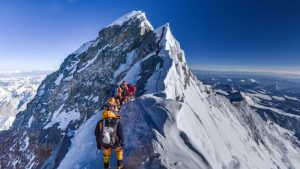 We are on top of the world with joy to have checked in with Damian from the S. Col. Tired but with huge smiles, the whole team have been back resting for a few hours, after a truly incredible summit night and dawn.
Damian Benegas (USA), Enrique Clausen (URUGUAY), Chedden Bote (NEPAL) and George Vouloumanos (CANADA) topped out at 0709 local time, 23 May 2019, followed by Jorge Luiz Decurgez (ARGENTINA), Rowena Lewthwaite (UK), Lopsang Sherpa IFMGA (NEPAL), Dawa Gyaljen Sherpa (NEPAL)and Khangdu Sherpa (NEPAL) at 0920.
We could not have done it without our amazing Sherpas who have not only encouraged endlessly but carried heavy spare oxygen bottles and drinks, and the rest of the team at the South Col (Pasang Bhote and Furu Sona Sherpa) and Camp 2 (Yubraj Rai) who carried close to 60 bottles of oxygen up (and soon down) the mountain this season in addition to tents, meals, sleeping bags, and stoves! As well as our base camp crew who literally work around the clock in addition to before and after the trip, spending three months in base camp! Shiva, Raju Rai, Gajar Rai and Urkha Rai, we can't thank you enough.
HUGE CONGRATS too all and thanks for our support from our Nepali crew who work so so so hard and all our supporters friends and family around the world.
This year was a truly international expedition!
Namaste!