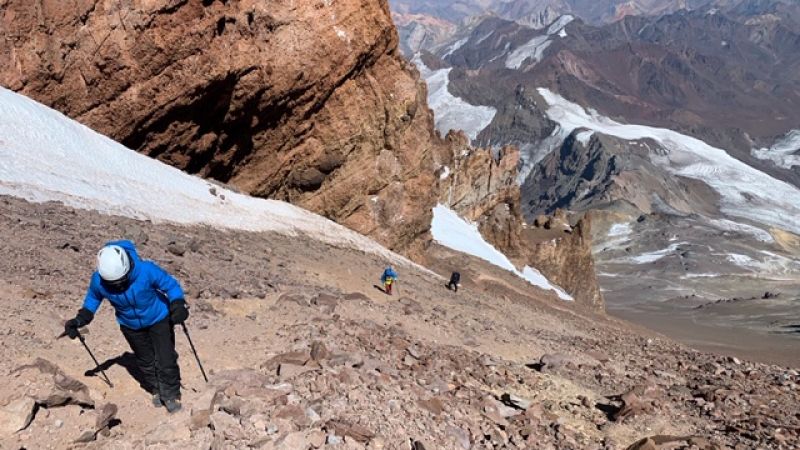 As our expedition draws to a close, with members returning back to Mendoza today, we would like to thank everyone who has made it such an exciting and fun January! CONGRATILATIONS to the entire team.
Located in the Andes mountain range, Aconcagua is an iconic mountain located in the Mendoza Province of Argentina. As the highest mountain outside of Asia, Aconcagua's summit elevation is 22,837 ft (6960.8 m). With this summit elevation, it has become widely known as the highest non-technical mountain in the world that still provides a tough endurance challenge.
"Climbing Aconcagua should be on every mountaineer's list. It's tough, and a chance to learn about yourself while opening the door to many 8000+ meter summits around the world, especially in the Himalayas "
— Nanika Stahringer – Guide
While the normal route up Aconcagua is considered non-technical due to not absolutely requiring the use of ropes, ice axes, and pins, the mountain still poses its fair share of challenges. Altitude sickness and weather near the summit pose serious risks for climbers and can cause even the most experienced mountaineers to turn back, missing their summit attempt.
With all of those factors in mind, Aconcagua can still be one of the best introductions to high altitude expedition climbing in the world. Even if you are an experienced rock climber, moving into high altitude expeditions requires a different set of skills and knowledge base. Having a team of expert guides like the Benegas Brothers can be the difference between a successful summit or not making it off the mountain at all.
The Seven Summits
As the highest mountain outside of Asia, Aconcagua has earned its place within the world's Seven Summits. The Seven Summits are the highest mountains on each of the seven continents. Each mountain within the seven is unique and summiting all seven is considered a rare mountaineering accomplishment.
"The higher and higher we go, the calmer and more tranquil the surroundings feel as we move nearer to something spiritual or inspirational for everyone "
— Nanika Stahringer – Guide
How to Book an Aconcagua Expedition with BBE
The route you take up to the summit of Aconcagua will be determined by your party's ability level and ideal trip desires. Despite this being a non-technical mountain, the high altitude and weather bring challenges of their own. This is a great challenge for those looking for an introductory experience on high altitude terrain. Or if you have the experience, we recommend the more technical route on the Polish Glacier. No matter your ability in the mountains, we will be able to find an expedition that fits you.
Book your Aconcagua Expedition today!