PEOPLE OFTEN ASK ABOUT THE IMPORTANCE OF MENTORSHIP… HOW VALUABLE IS IT? FROM PERSONAL EXPERIENCE, THE FEEDBACK FROM MENTORS AND MENTEES IS THE MOST REAL YOU WILL EVER RECEIVE. IT IS A PRIVATE, OFTEN LIFELONG GIFT, WITH A VERY STRONG BOND CREATED BETWEEN THE TWO.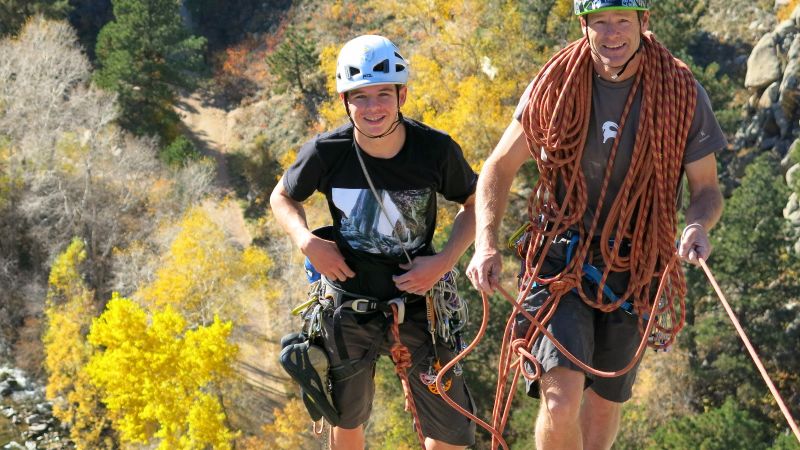 Willie and Matt met somewhere up high in Mt Rainier in 2010 Willie was guiding another team, and Matt was with his dad Mike, a more than accomplished climber whose list if summits includes more than just one 8000 meter peak. Up came this smiley and somewhat skinny kid, just 12 years old at the time but carrying a decent pack, and there the magic was born. Little did they know they would go on to climb so high together, or spend so many hours together under canvas!
The formal dictionary definition of a mentor is an experienced and trusted advisor. Crudely, it is someone you can tell "the good, the bad and the ugly" to and who expects you to do the same for them in return. In the field at BBE (and in the medical field), potential mentors have a desire to pay it forward, but get a lot out of mentoring relationships, and so, in the end, it's good for the mentee, good for the mentor and, in the end, good for everyone!
Over the next four years Willie and Matt began to sharing their love for the outdoors, skiing, climbing and being out in nature.
I first met Matt in Kathmandu in 2014. That year, he and a small group, aiming for Everest, came to Kathmandu to prepare for a pre-expedition on Cho-Oyu in Tibet, to acclimatize away from the crowds and the infamous Ice Fall. He was smiley as always, gentle, calm, unassuming, in fact very much like Willie in that way. After the Everest Expedition they were due to join came to a sudden end due to the devastating Ice Fall Avalanche of April 2014, most climbers departed Nepal altogether, but Willie and Matt decided to make to most of their hard work in Tibet, and climbed Mount Makalu, quite a feet, within one week of summiting Cho Oyu! After the summit, he returned once again smiley, super happy, but always grateful, and unassuming, and never ever proud!
Matt and Willie were looking for a second attempt on Everest from the South Side in Nepal in April 2015 when disaster struck once again … this time an Earthquake measuring 7.8 on the Rhicter Scale. Unsatisfied by watching his fellow countrymen and mountaineers boarding planes home in their droves, Matt advised Willie, who was busy setting up a relief effort with Damian, Pasang Sherpa (winner of the Nat Geo 2016 Adventurer of the Year Prize) and the dZi foundation, that he would not travel home, but would remain in Nepal and continue "tentlife", working as hard as he could for the next 5 weeks before his university in Colorado insisted on his return. The project empowered porters to distribute much needed aid, repair trails that cut of entire counties, and put aid money into the hands of local porters and back to their remote families, and not corporations. "If this program had not been in place, I sincerely believe there would have been a humanitarian catastrophe in these areas" Stephen Anderson, Emergency Coordinator, World Food Programme. Since then, somehow around his studies, Matt has achieved the Wilderness Emergency Medical Technician title.
Mentors can help you look at problems and situations from perspectives that you would not have thought of on your own. With Willie's high altitude experience, summits, rescues, knowledge of crazily technical rope systems, anchors and pulleys, and his ability to come up with extraordinary logistical solutions in a nanosecond (when the Base Camp Manager is still scratching her head!), what an extraordinary accidental friendship and mentorship has come to be. Unlike a parent, Willie is unlikely to say no! Instead, it is all but guaranteed that he will figure out, or better help Matt figure out, a way up, and down, and if not, around!
In the end, this story has led these two kindred spirits, driven, humble, talented and focused, to where they are today, trekking up to EBC, again, to make another attempt. So all that remains is to wish them well, and a safe climb, and to return home. In the end, we know it is the process and not the summit that counts, but for sure it feels like they both deserve it!
If you wish to know more about Willie and Matt's efforts and The Path to Recovery, please visit Nepal Relief – Building a Path to Recovery. We are forever grateful to dZi for their ongoing efforts in the region. Youtube Video: Nepal Quake Survivors Turn Porters to Deliver Aid and AFP News Article.