The Benegas Brothers are among the world's most experienced guides for summiting Everest. Learn about an offseason ascent of Mount Everest to avoid the crowds. 
By Owen Clarke
Owen Clarke is a freelance outdoor and travel journalist specializing in mountaineering.
Whether you're just toying with the idea of attempting Everest at some point in your life or you're already an experienced mountaineer gradually building up to a summit attempt on the Roof of the World…
You're probably aware that Everest has a crowding problem.
Nearly 900 climbers (clients and guides) stood atop the world's highest peak in 2019. Even the coronavirus setbacks of the last couple of years haven't thinned that herd much. While permits were withheld in 2020 due to the pandemic, the 2021 season resulted in over 500 summits, which is still a hell of a lot when you consider that the overwhelming majority of these climbers are jamming their ascents into a couple of two or three-day weather windows in May.
The crowded spring season doesn't just make it more difficult to summit successfully and safely, it diminishes the overall Everest experience. We're all familiar with Nims Purja's photo of the crowded Hillary Step in 2019. It looks like the Walmart checkout line to buy toilet paper in March 2020.
Jugging fixed lines with over a hundred other people in front and behind you… Well, it's not exactly what we hope for when we come to Everest. We've all trained long and hard (and invested no small amount of money), to be out on those airy ramparts. No one wants a summit experience like that.
That said, nothing can change the fact that Everest is the roof of the world.
It's the highest place on the entire planet we humans call home. The feeling upon reaching its crest is nothing short of sublime. Many of our Everest climbers tell us that standing on the summit is the proudest moment of their entire lives.
The point is: Climbing Everest is still worth it.
The quality of your Everest expedition just depends on how and when you choose to climb.
When Is it Best to Summit Everest?
What many beginner climbers don't realize is that if you're looking to climb Everest, you don't have to go in the spring with everyone else.
While the majority of Everest guiding outfits schedule their expeditions for May, Mount Everest can technically be climbed any time of year. Other viable weather windows offer similarly favorable conditions to the typical mid-May period that most outfitters jam their clients into.
To climb Mount Everest offseason can entail dealing with heavier snowfall and more unpredictable windows, but it also means minuscule crowds, a quieter mountain, and increased safety, as a result.
You're on the mountain with your guides and your team, not dozens upon dozens of other climbers and guides tripping over each other for the summit, all with varying levels of training.
We've been guiding clients up Everest since 1999. Outside of Nepali climbers, our leader Willie Benegas has the third-most Everest summits (13) of any person in the world.
Collectively, Willie and his twin brother Damian have 20 summits under their belts (not to mention over 100 ascents of Aconcagua, and countless other famed international mountains).
You'd be hard-pressed to find a more experienced guide for Everest.
The point is… at Benegas Brothers Expeditions, we've been doing this for a long, long, long time, and have the knowledge and experience to know when it's time to change things up.
As a result, we've decided to switch our Everest expeditions to the fall season!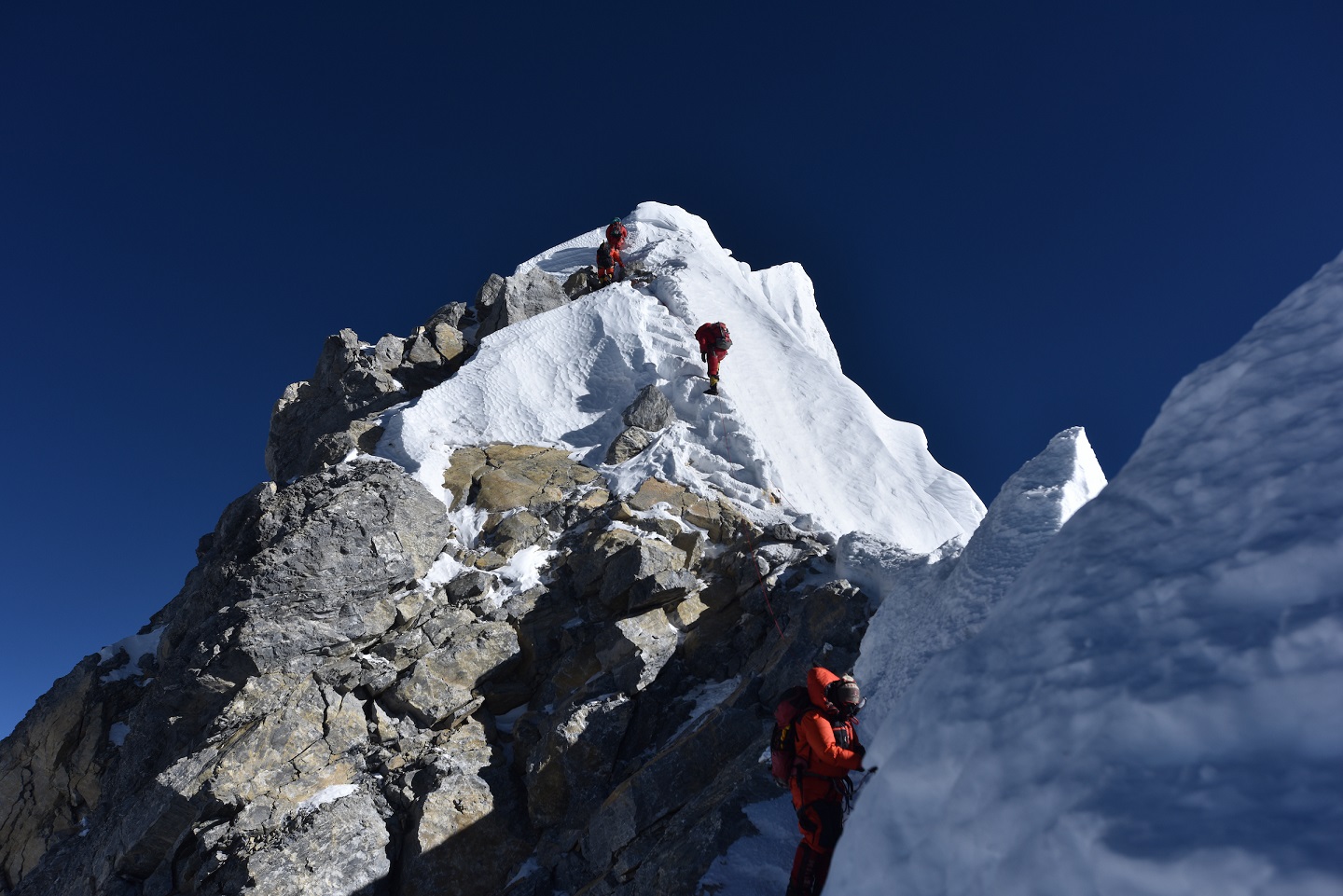 Climbing Everest in the fall, after the summer monsoon period, means encountering less precipitation, and as a result, floods, landslides, and other obstacles are less common on the approach. You'll have a warmer base camp, and less snow at Camp I and Camp II. You'll also experience a much less treacherous Khumbu Icefall (which many consider the most dangerous point on any Everest climb), because it won't be broken up and snow-laden after the winter season. On average, only a tenth of the ladders used in spring are needed to cross the icefall in fall.
It's not all rosy, of course, or else everyone would go in the fall. The snowfall of the summer monsoon means dealing with fresh snow deposits higher on the mountain, and the weather windows are less predictable.
However, the main benefit of climbing Everest in autumn is avoiding the mountain's biggest (and newest) hazard…
Other Climbers. 
The crowds have become the greatest hazard on Everest. From dropped oxygen canisters and other waste to poorly-trained and equipped guides and clients, the biggest possible threat on Everest is the people roping up around you. That's not even taking into account that, in the age of coronavirus, the health issues brought on by a crowded spring base camp have the potential to utterly derail a summit bid before it even begins.
Want to climb Everest without the crowds? Climb in Fall.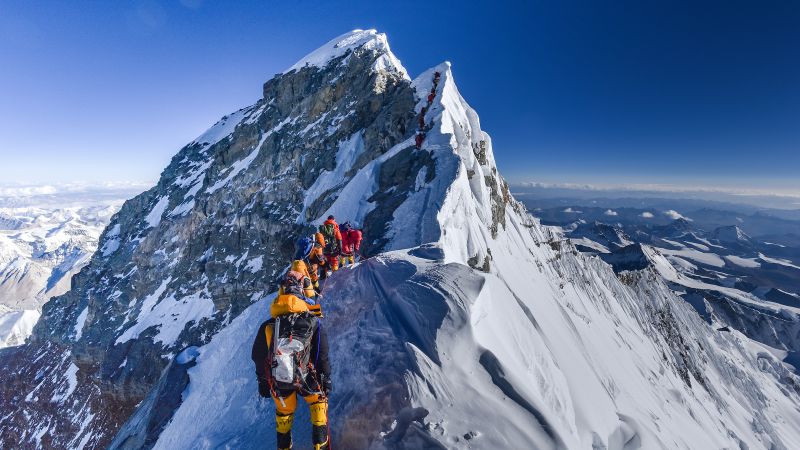 When you climb Everest in the fall, you're benefiting from a more authentic experience, without the hyper-commercialization that has come to take over the spring season. You're sharing the mountain with far fewer people, you're safer from COVID infection, and you're not contributing to crowded, dangerous conditions on summit days. Besides, when you climb with our small-outfit guiding crew, you're contributing to a reduced environmental footprint, too.
Climbing in fall, with us, is the way to experience Everest like it was thirty years ago. Instead of having the crowded shopping market checkout line experience, you'll be up there with just your guides and fellow team, like this.
Note: Even if you'd only like to trek to Everest Base Camp, fall is a great time to do it, for all the same reasons. 
Learn more about our Everest Base Camp Trek HERE
It's important to remember, of course, that Everest is a wild, rugged place. Conditions can't be predicted with 100% accuracy.
You hedge your bets, you strap on your crampons, grab your axe, and you go.
As longtime high-altitude blogger Alan Arnette writes on his dedicated Everest info page, "Each year is different on Everest. The temperatures can be colder or hotter, winter snows more or less and of course, the wildcard is when the jet stream moves off the summit. Predicting Everest weather is difficult at best."
The real answer, Arnette writes, is that "no one knows for certain what each season will bring. So train hard, get skills on low mountains and altitude experience on another 8000-meter mountain before Everest, and go with a team you can count on in an emergency."
We wholeheartedly agree.
Everest will push you to your limits. Summiting the world's tallest mountain is an adventure of the highest order. Only a scant few will ever attempt it, and even slimmer still are the ranks of those who manage to summit and safely return.
Give it the respect it deserves and travel off the beaten track to the fall season with us.
See Our Everest Fall Expeditions